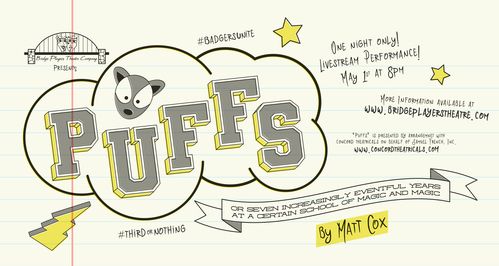 Puffs, or Seven Increasingly Eventful Years at Certain School of Magic and Magic
by Matt Cox

A tale for anyone who has never been destined to save the world.
Congratulations to our cast:

Coming to screen near you
May 1, 2021 | 8 PM
For seven years, a certain boy wizard went to a certain school of magic and conquered evil. However, this is not his story. This is the story of the Puffs... who just happened to be there too.

Tickets and more information coming soon!

"Puffs (Two Act Edition)" is presented by arrangement with Concord Theatricals on behalf of Samuel French, Inc.
www.concordtheatricals.com
Thanks for joining us for
March's edition of
Sunday Stories at Six
March's stories include: "Bunny Bear" by Andrea J. Loney, "The Dot" by Peter H. Reynolds, "The Girl with a Mind for Math" by Julia Finlay Mosca, and "The Paper Bag Princess" by Robert N. Muench.
Watch January's edition of Sunday Stories, with books "Dragons Love Tacos," "Hair Love," "Room on the Broom," "The Book with No Pictures," and more!
Thank you to our fabulous readers, Lindsey, Maureen, Dusty Rose, Gwen, Kori, Sam, Richard, and Abha!