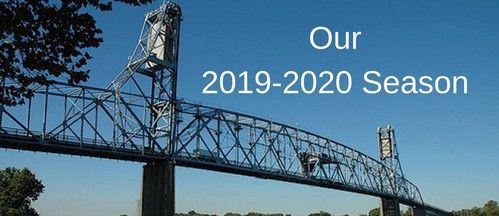 Cast List
Elle Woods: Alix Vitarelli
Emmett Forrest: Antonino Baldasari
Margot: Amanda Adams
Serena: Cynthia Reynolds
Pilar: Amanda Hoffman
Warner Huntington III: Mike Gibbins
Professor Callahan: Brian S. Rothman
Vivienne Kensington: Caitlin Reed
Enid Hoopes: Caroline Piotrowski
Paulette Buonofonte: Dyani Myles
Brooke Wyndham: Gina Petti
Ensemble: Yvette Burroughs-Myles, Ashley Carragher, Gregory Drey, Erin Gupta, Jimmy Hoffman, Ryan Mulligan, Kori Rife, Allyssa Winkelspecht, William H. Young
Book by Heather Hach
Music and Lyrics by Laurence O'Keefe, Nell Benjamin
Based on the novel by Amanda Brown and the Metro-Goldwyn-Mayer motion picture

Directed by Jessi Meisel
Assistant Director: Ethan Rundell
Music Director: Diana Dohrmann
Stage Manager: Timothy Kirk
Producer: Marissa DiPilla

September 20-22, 27-29; October 4 & 5
Fridays & Saturdays at 8 PM | Sundays at 3 PM
The performance on Oct. 4 will be sign interpreted.
Assistive Listening Devices will be available Sep. 27-29. Program by Audio is available upon request.

A fabulously fun, award-winning musical based on the adored movie, "Legally Blonde The Musical" follows the transformation of Elle Woods as she tackles stereotypes and scandal in pursuit of her dreams. Action-packed and exploding with memorable songs and dynamic dances, this show is so much fun, it should be illegal!

Elle Woods appears to have it all, but her life is turned upside down when her boyfriend Warner dumps her so he can attend Harvard Law. Determined to get him back, Elle ingeniously charms her way into the prestigious law school. While there, she struggles with peers, professors and her ex. With the support of some new friends, though, Elle quickly realizes her potential and sets out to prove herself to the world.



Play by Marian De Forest
Adapted from the Story by Louisa May Alcott

Directed by Maureen Broadbent
Assistant Director: Patti Keefer
November 22, 23, 24, 29, 30 and December 1, 6, 7, 2019

Share this timeless and enduring classic about the March sisters' journey from childhood to maturity during the American Civil War. Audiences of all generations will enjoy acquainting — or reacquainting — themselves with the sisters: Meg, the eldest; Jo, the high-spirited tomboy; Amy, the self-centered beauty; and gentle Beth, as well as their beloved Marmee and Father.

The play begins that memorable Christmas when Marmee leaves to visit her sick husband and Jo sells her beautiful hair to help finance the trip. It ends just a year later when the happy family is again preparing to celebrate not only Christmas but also the return of Mr. March. In between these two events, we again live, laugh, love and cry with Meg, Jo, Amy and Beth as they go through the many trials and tribulations. Together the March family learns to endure both good times and bad as they share the joys and pains of growing up.
Play by Sean Grennan

Directed by Alice Weber
February 7, 8, 9, 14, 15, 16, 21, 22, 2020

The Tin Woman is the story of a woman who receives a heart transplant and her eventual meeting with the family of the donor.

Instead of relishing life after her heart transplant, Joy enters a downward spiral, unsure whether she truly deserves a second chance. Meanwhile, Alice and Hank mourn the loss of their son, Jack, whose heart was used to save Joy. At a friend's urging, Joy tracks down Jack's family to find closure. But are Alice, Hank, and their daughter Sammy ready to accept Jack's death? Based on a true story, The Tin Woman uses humor and pathos to explore loss, family, and what it means to be given new life.
Music by Mary Rodgers
Book by Jay Thompson, Dean Fuller and Marshall Barer
Lyrics by Marshall Barer

Directed by Brian Rothman
May 1, 2, 3, 8, 9, 10, 15, 16, 2020

If you thought you knew the story of 'The Princess and The Pea,' you may be in for a walloping surprise! Did you know, for instance, that Princess Winnifred actually swam the moat to reach Prince Dauntless the Drab? Or that Lady Larken's love for Sir Harry provided a rather compelling reason that she reach the bridal altar post haste? Or that, in fact, it wasn't the pea at all that caused the princess a sleepless night? Carried on a wave of wonderful songs, by turns hilarious and raucous, romantic and melodic, this rollicking spin on the familiar classic of royal courtship and comeuppance provides for some side-splitting shenanigans. Chances are you'll never look at fairy tales quite the same way again.