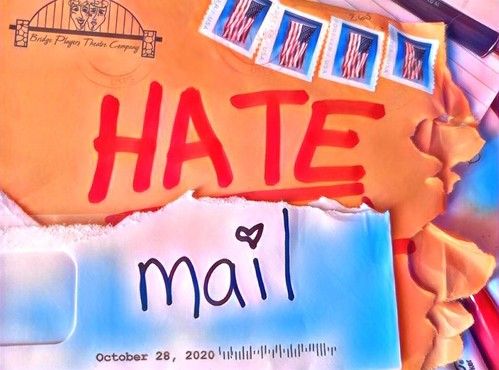 Directed by Tim Kirk and featuring Jeff and Kori Rife,
this combative comedy is suitable for ages 17+.
Wednesday, October 28 | 7:30 PM
Written by Bill Corbett and Kira Obolensky
When Preston writes a furious letter to a store demanding a refund for a broken snow globe, he begins an crazed war of words with assistant manager Dahlia. In this wickedly funny alternative to
Love Letters
, the two embark on an epic, often acrimonious, correspondence as their lives intertwine. Whether Preston and Dahlia are joining cults, having breakdowns, shipping each other deceased lizards, or falling in love,
Hate Mail
is a two-person comedy full of surprises at every turn.
Instead of selling tickets, we ask that each audience member
make a $5 donation
.
This donation will help offset the ongoing costs of running a theatre company, even when our doors are closed, and will allow us to keep producing high-quality entertainment for our community.
Your support of Bridge Players is very much appreciated!